EllaRetail ESL Solution with superior features

EllaRetail electronic price label solution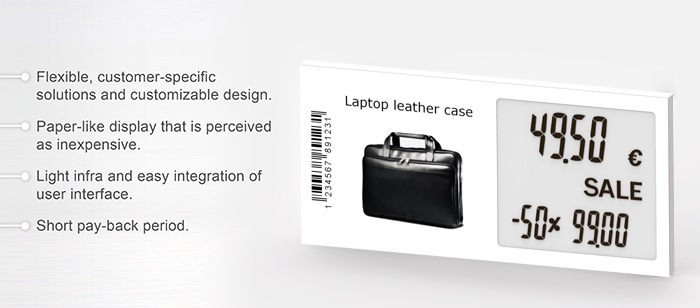 EllaRetail Pricing Solution is an electronic pricing solution developed in close cooperation with retailers, for retailers. The ongoing dialogue enables continuous learning and further development of the solution.
EllaRetail Solution consists of price displays, two-way radio equipment, controller software and additional equipment such as rails and holders.
The superior visual and functional properties of EllaRetail Solution make it an attractive choice for most different environments; from an exclusive boutique to a hypermarket and anything in between. Retailer saves money and receives a reliable tool for maximizing sales, profit and margins.


EllaRetail Solution is based on e-paper technology to answer the true needs of retail business
MariElla Labels electronic label displays the price but does not attract unwanted attention. Customer experience will not be tarnished by questions of expensive pricing technology being added into product prices.
MariElla label is light-weight, small and energy efficient. It is a long-term and ecological alternative to competing products.
MariElla Solution confirms price changes. Personnel won't have to go around checking if price updates were successful.
No server required. Start-up is easy and economical.